Working platform for CCM
BSE Ymond has custom developed and build a working platform for the CCM of OXYsteelfactory 2 of TATA Steel IJmuiden. This machine was developed to perform maintenance activities or carry out repairs on segments in the Continuous Casting Machine. Earlier, personnel had to climb over hot and sharp parts in the CCM to reach the problem area, only protected by their personal protection gear. Our working platform overcomes these risky procedures and provides a safe and efficient solution. Maintenance personnel can be lowered down on the platform to provide easy access to every possible place in the casting pit.
To be completely self sufficient, the working platform is equipped with its own diesel engine as power source for the hydraulic pumps. The hydraulic pumps power the wheels, the winch and the retractable stabilizers. The platform is lowered down by scissors, which makes the platform very stable in every position. For extra reach from the platform, it's delivered with two extendable platform parts. The upper structure of the machine is equipped with retractable stabilizers, which prevent the machine from driving into the casting pit.
The machine is controlled by a radiographic control unit and proportional speed control, making the machine very user friendly. Of course the machine is delivered with CE marking; it's approved of according to the latest machine guidelines. The unique lifting mechanism gives the machine a very stable platform with high loading capacity. These features make the machine applicable in many types of industries, like marine, offshore, energy supplies, petrochemical and nuclear industries.
For questions or an information request please don't hesitate to contact us by phone on +31(0)251-249704. Specifications given are indicative; many options are available to make the machine exactly meet your demands. Contact our engineering department for all possibilities. You can also use the contact form; we will react as soon as possible.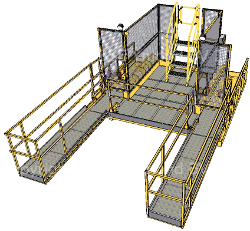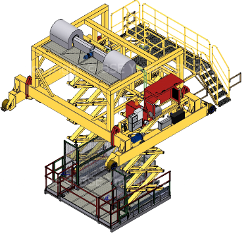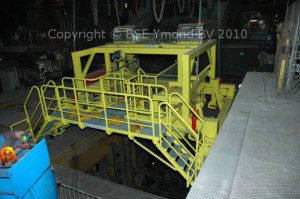 Working platform specifications:
| | |
| --- | --- |
| Main dimensions | : L=6877 mm |
| | : W=6220 mm |
| | : H=3828 mm |
| Mass | : appr. 14.000 kg |
| Maximum workload | : appr. 500 kg |
| Maximum stroke | : appr. 10500 mm |
| Driven wheels | : 2 |
| Maximum speed descent/ascent | : appr. 10 m/min |
| Maximum allowed inclination | : 5 degrees |
| Maximum driving speed | : appr. 2,5 km/h |