Machine/vehicle construction
In our spacious workshop we can manufacture complete steel frames for new machines and vehicles. Besides mechanical construction of frames we also fabricate and assemble the hydraulic, electrical, diesel and pneumatic systems on our machines. By fabricating and assembling the whole machine/vehicle ourselves we are very flexible and the quality of the product is controlled. Our workshop is equipped with the following machinery:
Overhead cranes (capacity 2x10tons, 3x5tons)
Welding equipment (MIG, MAG, TIG)
Drilling equipment
Automatic saw machine
Deburring and abrading units
Hydraulic test unit
Hydraulic hose saw and press
Compressor
Lubrication pit
Automatic storage system
The automatic storage system gives us a good overview of the actual stock of important spare parts. That enables us to give good support and fast service during breakdowns.
By combining engineering and construction on one location, completion times are shortened and problems can be solved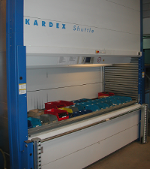 immediately as they occur.
Summarizing, BSE Ymond has all the knowledge and skills to translate your idea in a functional prototype! Please contact us for more information at telephone number +31(0)251-249704.