Container with platform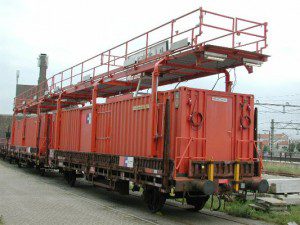 For large scale revisions or repairs to the catenary installation on railroad, BSE Ymond has built a number of containers with platform. These machines are based on a standard 40 foot container with an elevating platform on top. The platform can be elevated by use of mechanical spindles or by hydraulic cylinders. Because the platform can be elevated, the platform can be raised to the optimal working height for every catenary wire level. The platform is equipped with foldable fencing that can be raised hydraulically and stairs that rises along with the platform.
The compact system with hydraulical cylinders that raise the platform was specially designed to make the vehicle fit in the loading gauge of Belgian railroad. Two containers can be equipped with one hydraulical drive system, but the platforms can still be raised simultaneously. This leaves one container to be fitted with the drive system, the other can be used as a workshop during activities. The containers are also equipped with an emergency descent system to be able to get the vehicles in transport position in an emergency situation.
More information on containers with platform
Many options are possible to make the machine completely suit your needs. For questions or an information request please don't hesitate to contact us by phone on +31(0)251-249704. Contact our engineering department for all possibilities. You can also use the contact form; we will react as soon as possible.