Do you know when to choose a scissor lift and not for example a telescopic boom lift? In this blog we explain the unique properties of a scissor lift compared to other types of aerial lifts, and when and why to choose a scissor lift. Amongst others the scissor lift offers more stability on difficult or uneven terrain and a large loading capacity.
What is a scissor lift?
A scissor lift is a machine that helps to lift persons and machines vertically up to a higher working area.
The scissor lift on tracks (caterpillar) and on rail wheels has been our absolute specialism since we were founded. BSE Ymond develops and builds these types of aerial platforms for already 25 years as OEM. Besides the development and production of scissorlifts we also provide training of personnel that works with these machines. We can also do the periodic inspections on your aerial platforms and carry out maintenance. We also provide training, maintenance and inspections for other brands of aerial platforms. In short, BSE Ymond is an absolute specialist when it comes to aerial platforms as scissor lifts.
Why choosing a scissor lift?
In general an aerial platform is always used when activities at a higher working area must be carried out. A aerial lift is used as an alternative for other means of bringing people and material to this higher level, for example: scaffolding. The most important reasons to choose for an aerial platform are the mobility and reachability of the working area. An aerial platform is easy to move around compared to scaffolding that must be completely torn down and rebuilt. Also often aerial lifts can reach difficult positions due to the geometry of the lifting arms compared to scaffolding or stairs.
So when do you specifically choose a scissor lift? The main reasons to choose this type of aerial lift are:
More stability due to lack or limited horizontal outreach (vertically up)
Larger loading capacity
Big platform
Each of these reasons will be explained in detail below.
More stability
The construction of a scissor lift enables the platform to go vertically up and down. When compared to an articulated boom lift or telescopic boom lift, there is limited horizontal outreach. The nature of the lifting mechanism with limited horizontal outreach brings extra balance and stability (Moment = force x arm). If the activities demand a lot of weight (people an material) to be transported to a higher working area, the scissor lift will be more appropriate than other types of aerial platforms.
Larger loading capacity
Did you know that the loading capacity of our scissorlifts is up to 3 tons (300 kilograms)? A scissor construction can bear considerably more weight when compared to articulated boom lifts or telescopic boom lifts. This offers advantages if a larger platform (working area) is required and/or a large loading capacity is required because of heavy working gear or heavy parts. Because of the nature of the scissor construction and large loading capacity, the maximum lifting height is limited to approximately 31 meters. For many applications this maximum height is still sufficient.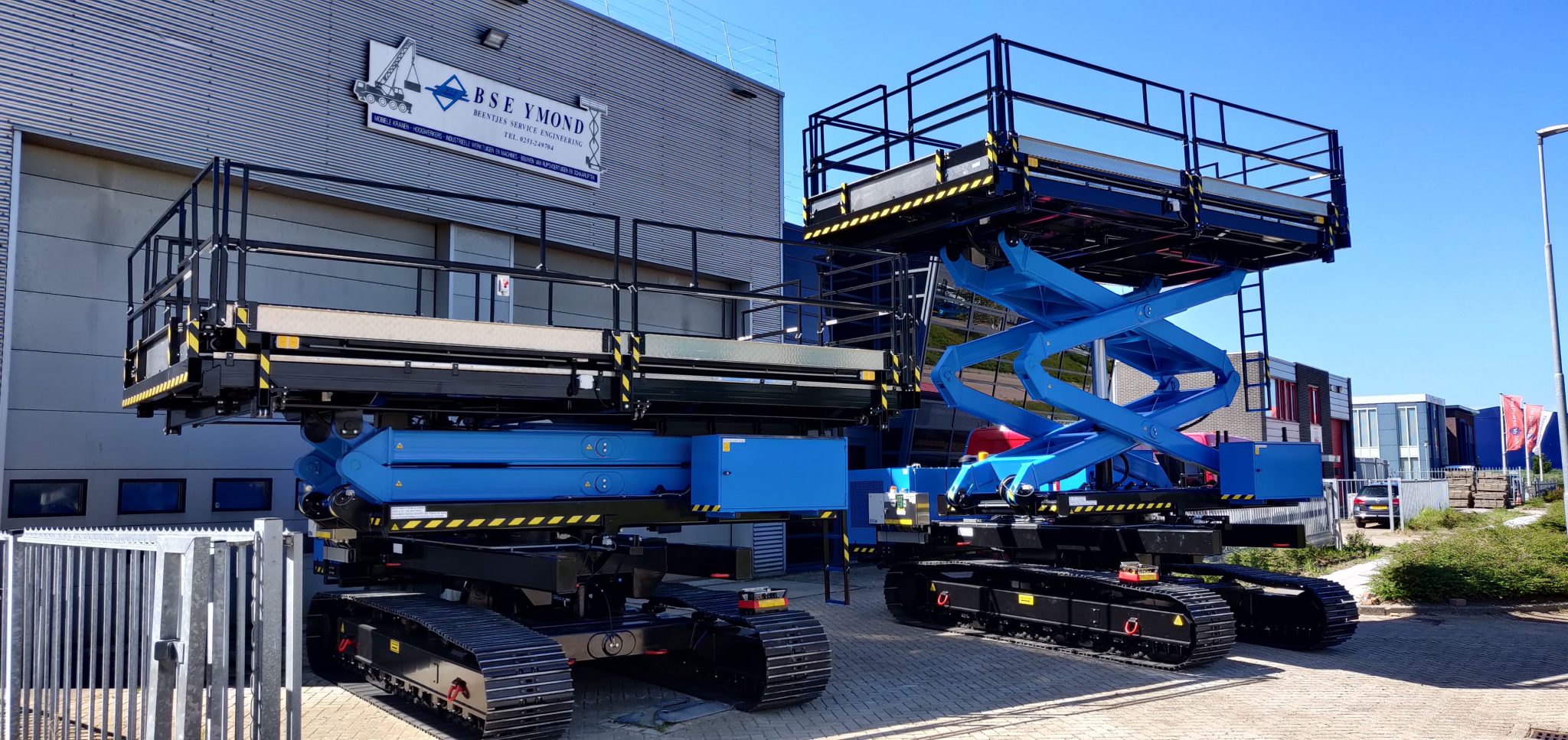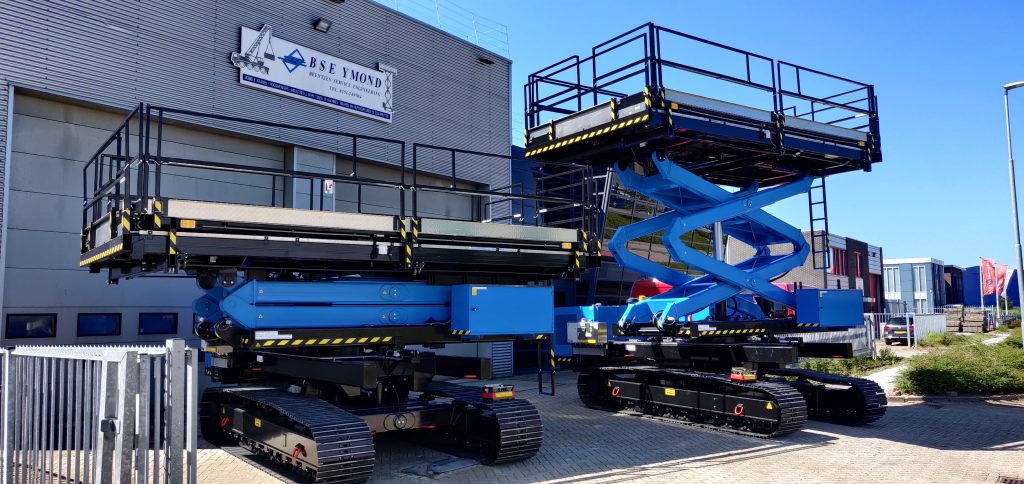 Large platform
Characteristic for the scissor lift is that this type of lifting mechanism supports the platform from underneath. Articulated boom lifts or telescopic boom lifts are always limited to a (small) working basket that is mounted to the lifting construction. As the platform is supported from underneath it's scissor platforms, the platform itself can often be much larger. BSE Ymond has built scissor lifts with  extended platform dimensions of up to 12 meters long and 5 meters wide!
A large platform offers efficiency advantages. Because of the platform size, multiple people can be at work at the same time and a larger working area be reached simultaneously without moving the aerial platform. Our scissor packages are developed and build to provide optimum stability of large platforms, to provide a safe working area for the people on the platform without a lot of movement of the platform itself. Also our platforms, if required, can be made hydraulically extendable in up to 4 directions. This enables the users to increase or decrease the working area at any moment to provide optimum flexibility.
As mentioned before, BSE Ymond is a specialist in a unique type of scissor lifts: the scissor lifts on tracks. Why do you chose a scissorlift on tracks? The main reasons to choose a scissor lift on tracks are:
More stability on unpaved (difficult) terrain
Faster, better and safer movement
Each of these reasons will be explained in detail below.
More stability on difficult terrain
A scissor lift with undercarriage with tracks offers a lot of stability on rough or very soft terrain, like sand, clay or peat. Because of the small surface pressure of tracks, the scissor lift on tracks offers maximum safety that will not get stuck or fall over.
For extra stability and safety, for example at higher working positions, a scissor lift can sometimes be stabilized by stabilizers. Our scissorlift can be equipped with automatic or manual levelling functions. This means that the upper structure can be levelled up to 5 degrees in any direction when compared to the undercarriage. So even on a skewed underground the upper structure will be levelled.
For example if you are on a subsoil that is 8 degrees skewed, the levelling enables you to compensate this by levelling the machine. This means the upper structure can be levelled by 5 degrees, so it is inclined 3 only degrees. With 3 degrees inclination the scissorlift is allowed to go up tot he maximum height.
Faster, better and safer movement
Scissorlifts on tracks are used in terrain that is difficult to access. Simply because normal aerial lifts on tires will get stuck or tip over on this kind of terrain. The low surface pressure is by far the most important advantage of tracks.
But, more advantages are connected tot he tracks. Because the scissorlift on tracks is so stable, the machine can be moved around without the need for lowering the platform during movements. For safety considerations the height for driving with raised platform is limited to 8 meters. With other types of platforms (for example on wheels) generally speaking first the platform must be lowered. Than the stabilizers retracted, moved to the new position and restabilized with stabilizers, before the platform can be raised again. All these steps take a lot of time, reducing efficiency of such machines under those circumstances.
BSE Ymond is specialized in scissor lifts on tracks. But we also deliver these scissor lifts on other types of undercarriages. Depending on your wishes and type of activities we build other propulsion methods like rail wheels or tyres.
When do you choose a scissor lift?
The different advantages of a scissorlift makes you choose this type of machine if you:
Want to go vertically up to a higher working area, up to 31 meters
Work on rough terrain in rough, soft or skewed underground
To move the aerial platform efficiently during activities
Want more loading capacity because of heavy equipment/material or multiple people
Want to work with multiple people and need more working area
Our scissorlifts are often used in greenhouse constructions and glazing, tunnel building, facade activities and rail track construction.
Do you want more information regarding aerial platforms or machine engineering/construction? Contact BSE Ymond. Feel free to inquire about the possibilities by e-mail or telephone.