The market for scissor lifts is a large, diverse market. Aerial platforms are for sale or for rent in many types, sizes and designs. The worldwide rental fleet alone is approximately 1.5 million units! The scissor lift on a caterpillar is a type of aerial work platform that is particularly suitable for greenhouse construction. In this sector, the scissor lift on caterpillars is invaluable. In addition to the scissor lift, we also explain a number of other machines that we have developed especially for greenhouse construction.
What is a scissor lift?
A scissor lift is a tool with which people and/or material can be lifted to a workplace at a height. The propulsion of this type of aerial work platform is usually with wheels or caterpillar undercarriage. The platform on which the material, tools and people are located is completely surrounded by fencing and can sometimes extend in one, two or all (four) directions. The lifting construction contains "scissors" from which the scissor lift takes its name. The lifting construction can consist of several "scissors" placed on top of each other.
Characteristics of scissor lifts on catterpillar undercarriage
Scissor lifts generally differ from other (e.g. telescopic or articulated arm) aerial platforms by:
Greater lifting capacities (weight)
Usually equipped with larger (m2) platform
The main difference lies in the way in which the aerial platform goes up, with a scissor lift it is vertical and with telescopic or articulated boom lifts there is always a movement.
An aerial platform on a caterpillar undercarriage is more stable and able to perform well even on less stable surfaces (such as heavy/rough terrain). Scissor, telescopic and articulated boom lifts can be equipped with a caterpillar undercarriage. The BSE Ymond scissor lifts with caterpillar undercarriage are almost always equipped with (automatic) leveling operation, which increases stability even further.
Scissor lift offers stability and lifting capacity in greenhouse construction
Voor gebruik in de tuinkassenbouw blijken schaarhoogwerkers op rups een ideaal werktuig. Tijdens aanleg van de tuinbouwkas hebben de weersinvloeden (elementen) nog vrij spel op de bouwgrond die daardoor vaak vochtig en dus instabiel is. Normale hoogwerkers op banden komen snel vast te zitten. De efficiëntie neemt af, door vertragingen lopen de bouwkosten op. Alleen al daarom is een rupsonderstel ideaal in dit soort bouwmstandigheden.
Ook bieden schaarhoogwerkers op rups een groot platform met veel hefcapaciteit. Men werkt vaak met een bemanning van vier personen waarbij er veel activiteiten tegelijkertijd op hoogte kunnen worden uitgevoerd. Tijdens bijvoorbeeld het beglazen van tuinbouwkassen worden twee glaspakketten van ca. één ton per stuk op het dek gebracht. De grote hefcapaciteit, en de stabiliteit, is hier een vereiste om snel, veilig en efficiënt te beglazen. Ook heeft de toegenomen hefhoogte van kassenbouwmachines zoals schaarhoogwerkers er over de jaren toe geleid dat tuinbouwkassen steeds hoger gebouwd kunnen worden. De verwachting is dat de bouwhoogte blijft toenemen, bijvoorbeeld onder invloed van vertical farming.
BSE construction machine voor greenhouse construction
For use in greenhouse construction, scissor lifts on caterpillars prove to be an ideal tool. During the construction of the horticultural greenhouse, the weather influences (elements) still have free play on the building soil, which is often moist and therefore unstable. Normal wheeled aerial platforms get stuck quickly. Efficiency decreases, construction costs rise due to delays. For that reason alone, a caterpillar undercarriage is ideal in these types of construction conditions.
Tracked scissor lifts also offer a large platform with a lot of lifting capacity. People often work with a crew of four people, whereby many activities can be carried out simultaneously at height. For example, during the glazing of horticultural greenhouses, two glass packages of approximately one ton each are placed on the deck. The large lifting capacity and stability are a requirement here for quick, safe and efficient glazing. The increased lifting height of greenhouse construction machines such as scissor lifts has also meant that horticultural greenhouses can be built higher and higher over the years. The building height is expected to continue to increase, for example under the influence of vertical farming.
BSE Glass manipulators on scissor lifts for glazing greenhouses
The Venlo greenhouse is popular and the most built greenhouse in the world. It consists of a skeleton of galvanized steel and aluminum and is covered with glass panes. Originally, the standard roof width was 3.20 metres, but due to further development, the Venlo greenhouse is now available in many different sizes. We have developed and built glass manipulators for depositing the glass plates in the Venlo greenhouses. These are special tools on top of the platform of our scissor lifts, with which glass plates are vacuumed in order to pick them up and place them in the ridge of the greenhouse. Previously, this dangerous and heavy work was done by hand by the glasshouse glazing companies.
The development of glass manipulators represented a huge leap forward for working conditions during the construction of horticultural greenhouses. Much larger glass sizes are now also used, because the mass of the glass plate is no longer a limiting factor. Thanks to the increase in the glass size, fewer windows are needed, a development that allows horticulturists to get more out of their greenhouse with the same surface area. In greenhouse horticulture, the rule of thumb is: 1% extra light transmission gives 1% extra crop yield.
Customized aerial work platforms and greenhouse construction machines
We offer a wide range of options on all our greenhouse construction machines that further improve functionality for our customers. In addition to stability functions, machines are, for example, equipped with converters for 230V power supply on the platform, but in fact almost any electrical or hydraulic functions that fit within your work process can be conceived, designed and realized. BSE Ymond is known for its custom made solutions and flexibility.
Clean diesel engines and user-friendly controls
Standards for emissions from diesel engines are becoming stricter, which is why we are also innovating in this area. It is always possible to install the latest generation of diesels in new (and existing) greenhouse construction machines.
We provide a seamless integration of the power source in the entire control system of the machine. The control system is designed in such a way that the emission of the engine is as low as possible. An extensive graphic display is also built on the machines as standard. This helps you to understand the status of the machine and its maintenance. In addition, in many cases the display helps to solve malfunctions without the need for a multimeter.
Electric drive in the scissor lift type, especially if they have to operate in more severe conditions, is not yet desirable. This is due to the more limited operational time. If electric technology continues to develop, especially with an increase in service life and a shorter charging time, then electric propulsion cannot be ruled out. As an innovator in the field of aerial work platforms, BSE Ymond will of course continue to keep a close eye on this.
Greenhouse construction machines at BSE Ymond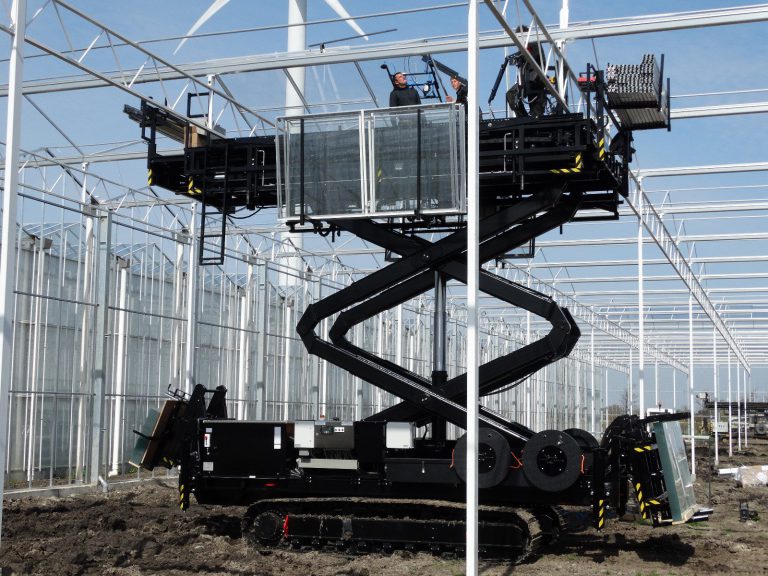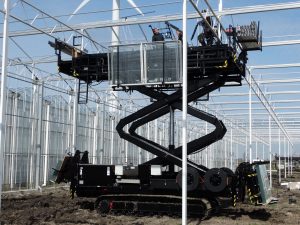 Do you have a specific question about one of our machines or are you still unsure which machine is suitable for your work? We always strive to build the machine that suits you best. Our machines can be built entirely to customer requirements and everything is aimed at creating added value for you with a machine that fits optimally into your work process. Are you curious? Inform without obligation about the possibilities of our aerial work platforms or greenhouse construction machines. Contact us by e-mail or telephone.